The way we face Leather
Exhibition
Eindhoven, Netherlands
Oct . 2018

'Revivals'








Style Chosun
Press
Jul . 2018

http://www.stylechosun.co.kr/online/design-thinking-eindhoven










Ventura Centrale 2018
Exhibition
Milano, Italy
Apr . 2018

'Simulacre'




About Ventura projects
Ventura Projects are founded, curated and produced by Organisation in Design, with over 15 years of experience of event planning, consultancy, production and PR in the creative industry. The events take place in major design hotspots like Milan, New York and Dubai with a special focus on contemporary design – both by new generation designers as well as by established brands and labels. They are the perfect place to get inspired and take measure of the ever rapidly changing world of design. and provide the opportunity to view projects and designs as they present themselves to a broad international and motivated audience. In line with previous projects, Ventura Future and Ventura Centrale 2018 will pave the way for creativity and experimentation and set the bar for the most celebrated and promising designers of our time.

About FuturDome
FuturDome is a housing museum aiming at nurturing emerging international talents and providing a home for pioneer creative thinkers. A territory, where contemporary arts and disciplines become an integral part of daily life, with the aim to engage unpublished projects in direct contact with a historical atmosphere. Once, this Liberty Palace was the meeting place of world renowned artists who were part of the Futurist Movement. During the Forties, the last Futurist artists met, worked and debated in the building, setting the basis for ground-breaking aesthetic currents. Now FuturDome, curated by Isisuf - International Institute on Futurism Studies, under the Artistic Direction of Atto Belloli Ardessi, is an independent museum where next-generation residential spaces host cultural events, organized into the building common areas, or directly in the private apartments. The fluidity of FuturDome spaces allows creatives to install micro-worlds of highly aesthetic and sensorial impact within the domestic scenarios.





CAVA pop-up store
Exhibition
Seoul, Korea
Apr ~ May . 2018

'Simulacre'








Collect 2018
Fair
London, UK
Feb . 2018

'Simulacre'




Collect brings together 39 galleries from four continents

At a time when the world has woken up to the visionary creativity of contemporary craft, we are delighted to announce the return of Collect to London's Saatchi Gallery for its 14th edition from 22 - 25 February 2018.

Collect brings together 39 galleries from four continents for a celebration of making, extraordinary in both scale and scope. Museum-quality works and installations from hundreds of the most talented makers in the UK, USA, South Korea, Japan, France, Norway, Italy, Belgium, Germany, the Netherlands and Sweden will offer visitors and collectors a multidisciplinary overview of the people, processes, materials and ideas defining international craft in 2018.

From the makers sustaining and enhancing historic craft techniques to experimental artists breaking material boundaries and pioneering new processes, Collect provides an immersive and wide-ranging snapshot of what craft means today, and a glimpse of what it might become in the future.





OBJECT Rotterdam
Exhibition
Rotterdam, Netherlands
Feb . 2018

'Simulacre'




The fair is a platform for the latest limited editions and one-offs from well-known and upcoming designers working in different design disciplines and with various materials. OBJECT is thé place where the cutting edge between design, crafts, fashion, architecture and art becomes evident and it is a must-see for collectors, professionals and other design-minded people.

ADDRESS
HAKA building
Vierhavensstraat 38-42
Rotterdam

INFO
Opening hours: 11h – 19h daily
Entrance fee: 12,50 euros, including a visit to the Euromast (already worth 9,75 euros:-)
Children under 12 are for free





The Craftsman as Explorer
Exhibition
Amsterdam, Netherlands
Jan . 2018

'Simulacre'




Simularcre Series and lacquering workshop in the Scheepvaartmuseum in Amsterdam with Crafts Council Nederland from 26 to 28 January 2018 as part of the European Heritage Year.








TLmag #28
Asian Aesthetics /Esthétiques asiatiques Autumn–Winter 2017
Publication
Dec . 2017

'Simulacre'








Design is my // RELIGION // is my design
Exhibition
Dec . 2017 - Feb . 2018

' Panta Rhei '




http://www.designismyreligion.nl/

LOCATION
ECI Cultuurfabriek ECI 13, 6041 MA Roermond, NL

INTRODUCTION
The city of Roermond is historically known for it's connection to art and architecture. It's the birth town of Pierre Cuypers, whose neo-gothic architecture influenced a whole period in Dutch Architecture. Every two years the city awards the Limburg Design Awards (previously named the "Harrie Tillieprijs") to a contemporary project in the field of interior design. Simultaneously with the award and it's following exhibition, a second exhibition will this year be organized with a focus on product design.

CONCEPT
Design is My Religion explores the relationship between the earthly and the divine. The exhibition investigates the connection between the physical object and the abstract concept of religion, by showing a broad selection of objects. The connection can be very explicit, found in objects with a religious function and made for a specific religious building, or more visual by using and transforming religious shapes and symbols into objects for day-to-day use. Other examples investigate a deeper connection between object and spirituality. They focus on the rituals found in multiple religions, like washing of hands or lighting a candle., but without being related to one specific religion: they transcend the religious connection.





Exhibition in Kazerne during Dutch Design Week 2017
Exhibition
Oct . 2017

' Simulacre ' Series




During DDW, the Kazerne expo is complemented with even more contemporary design.
During DDW 2017, the Kazerne exhibition will be complemented by even more contemporary design in the heritage around the courtyard. With 2000 square metres of works by both young and established design talents, Kazerne is once again the hot spot where art, design and technology comes together with good food and drinks.





TRAJECTORIES – Future Pathways in Design in Temporary Art Centre (TAC)
Exhibition
Oct . 2017

' Lacquered Forms '
' Simulacre '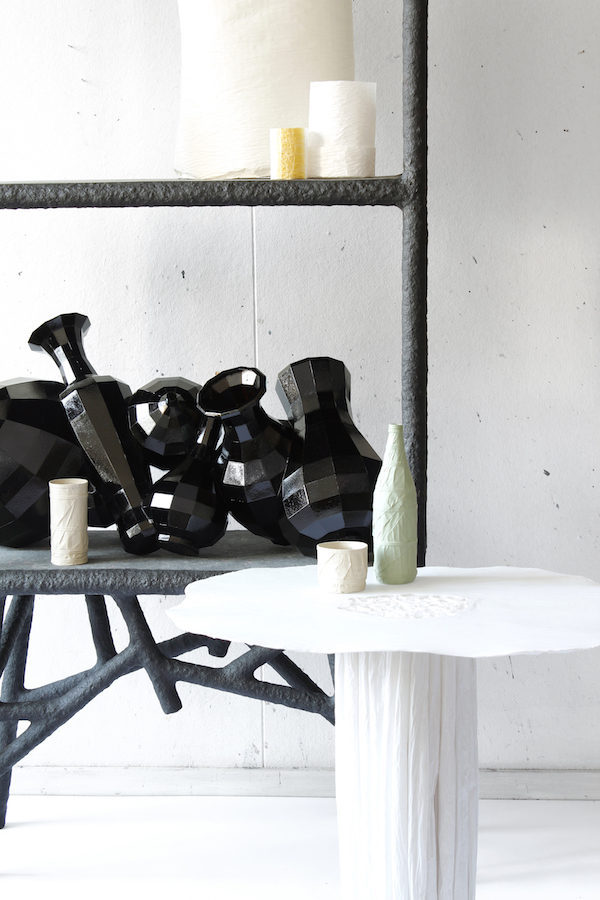 HOW & WOW with Crafts Council Nederland
Exhibition
Oct . 2017

' Lacquered Forms '
' Simulacre '




Worldwide, the importance of the creative craft of design and innovation is becoming increasingly visible. High time in the Netherlands to give crafts a solid international platform to show the latest developments. Dutch Design Week (DDW) and Netherlands Crafts Council (CCNL) therefore enter into a long-term collaboration to demonstrate the importance of crafts for now and the future. During DDW 2017 is created a place where contemporary crafts take center stage and where the link will be displayed with the design and production process.

The value of crafts
We are at the beginning of a new era make. The value of crafts and the urgency of the preservation of cultural heritage are increasingly being recognized. Designers delve into how things are made, with a particular focus on traditional methods, new industrial techniques, unique handicrafts and small-scale production. Make Talent is also necessary to meet the demands of today's creative economy by its transfer techniques, developing new applications, contemporary presentations and crossovers crucial. The cooperation between CCNL DDW and crafts now have a permanent place on the nine-day design festival.

Crafts in Warehousing
With a high-profile exhibition during DDW, curated by CCNL, the creative craft is presented in a surprising way. Part of Warehousing Company in Eindhoven will be transformed into a place where crafts are displayed in conjunction with design and inspiring where partners can introduce their innovations. A special meeting where the international network of CCNL is brought together and where there is room for deepening through expert meetings, lectures and debates on the subject. Professionals, experts and visitors can get acquainted with the special techniques make himself a master class.





Modern Decoration
Magazine
Oct . 2017

'Fossil'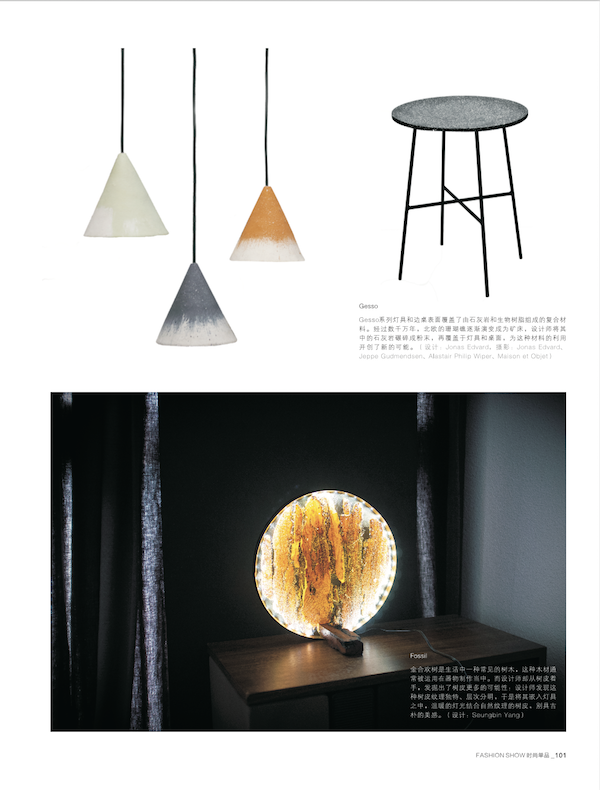 Designer's Show in Mint Gallery, during London Design Festival 2017 (LDF 2017)
Exhibition
Sep . 2017

' Lacquered Forms '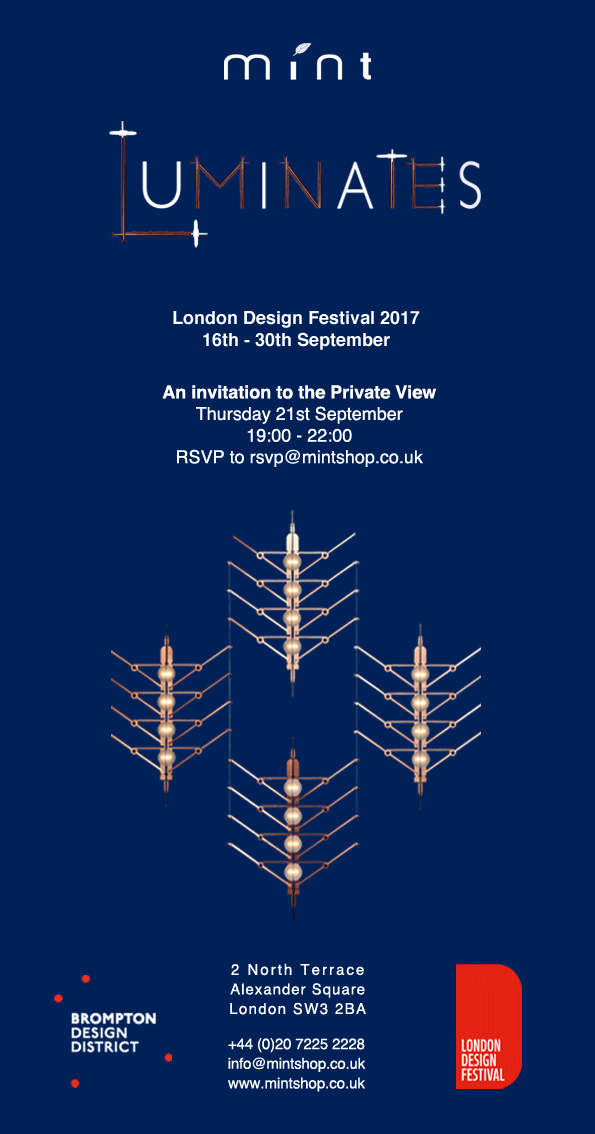 Bioinspired - Creative Learning from nature
Demonstration
Sep . 2017

' 21g Samples '


TU Delft shows Seungbin Yang's work in the exhibition "Bioinspired: designing the surface". On the 14 of September Seungbin Yang will give a demonstration in the Botanical Garden of the TU Delft between 11.30-13.30 (only for invitees).








The Method Case
Webzine
May . 2017

' 21g '

http://www.themethodcase.com/seungbin-yang-21g-paper-ott-chil/








'21g' is now available in 'the Artling'
Shop




At The Artling, we are passionate about art and we focus on featuring some of the top talents within the genre of Asian Contemporary Art. We work with some of the top galleries and artists in the region and feature their work online in order to make their work accessible to the international market. Our online gallery features a curated collection of art, ranging from limited edition prints to sculptures to paintings.

https://theartling.com/design/seungbin-yang/21g/





O.o (Occasionele Ontmoetingen) Event #2, WHERE FORM MEETS ART
Exhibition
13 ~ 14, 19 ~ 21 . May . 2017

' 21g and Panta Rhei '

Jo en Bea Crepain, Vlaanderenstraat 6, 2000 Antwerpen, Belgium








Design 360 ̊ Magazine
Magazine
April . 2017

'21g'








'21g' is now available in 'the frozen fountain'
Shop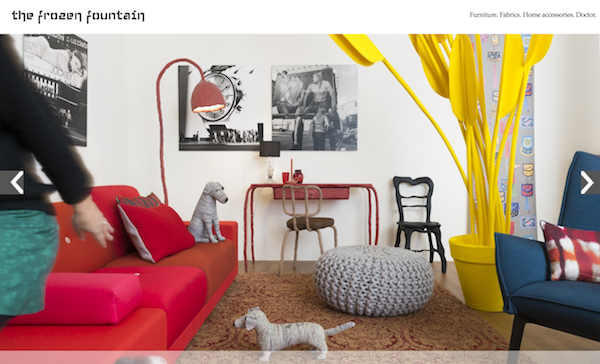 The Frozen Fountain is a shop that sells contemporary furniture and home accessories. The Frozen Fountain maintains close contact with designers emerging from the various art academies both in the Netherlands and abroad. The result is a highly dynamic collection.

The collection is then made complete by a selection of international furniture brands, creating an interesting interplay of classics and designs by contemporary designers.

In addition, The Frozen Fountain has organised many exhibitions. With these exhibitions, we strive to visualise the symbiosis between idea and end product.

The emphasis has now shifted more onto installations and art commissions. Installations can be organised relatively quickly, allowing us to respond better to the latest developments. In addition, issuing art commissions allows us to investigate a particular subject in greater depth.



http://www.frozenfountain.com/



the frozen fountain
Prinsengracht 645
1016 HV Amsterdam





The Room of Desires
Exhibition
6 . March ~ 1 . April . 2017

' 21g and Panta Rhei '

at Raumwerk gallery, München, Germany








Ein&Zwanzig 2017 International Competition by German Design Council
Prize
March . 2017

' 21g '

http://www.ein-und-zwanzig.com/awardees/21g/








InterVIEW Germany
Magazine
March . 2017

' Panta Rhei '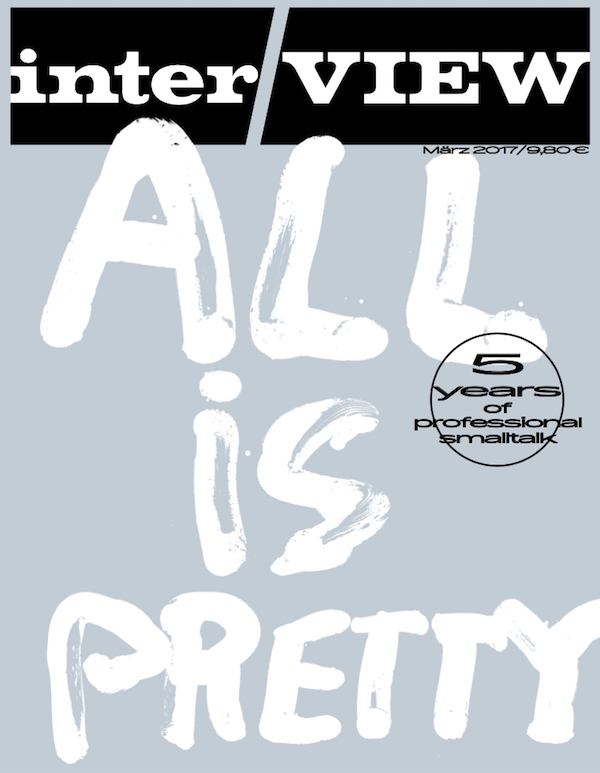 'Designing the Surface' in Het Nieuwe Instituut Rotterdam
Exhibition
27 . January ~ 25 . Jun . 2017

' 21g and Samples '

http://designingthesurface.hetnieuweinstituut.nl/en




What determines a product's appeal, function and identity? Increasingly it is the finish that designers employ not only to beautify a product, but also to strengthen, preserve or disguise it. The last layer can simulate ageing, form an impenetrable shell or function as a convincing imitation of craftsmanship. Designing the Surface, an exhibition where the final topcoat targets the senses, investigates a compendium of artefacts over five sets: lustre, patina, faux, teflon and agency. Surfaces are full of contradictions; declarations of falsehood and denials. Chairs lie. Dashboards deceive. Take a look into the transformation of products – trying to survive in the design world, where nothing is what is seems.

Desiging the Surface is the result of a dialogue between product designer and New Insituut fellow Chris Kabel and designers/exhibition makers Jannetje in 't Veld en Toon Koehorst. Together they developed the themes and structure of the exhibition, which is part of the long-term programme strand The Things and The Materials.



CURATOR & CONCEPT

Chris Kabel
Koehorst in 't Veld



ARTISTS AND CREATORS

A. Bicker Caarten
Aliki van der Kruijs
Anastasia Taylor-Lind
Bastiaan de Nennie
Bertjan Pot
Charles A. Jencks
Chris Kabel
Chris Cable & St. George
Commonplace Studio
Ekaterina Semenova
G. Th. Delemarre
Gerard Dukker
Hella Jongerius
Carl Henry Helweg & Hendrik Roelof Carel Helweg Jr.
John Schwartz
Koehorst in 't Veld
Kueng Caputo
Lex Pott
Max Lamb
Nedko Solakov
Ron Nagle
Serge Technau
Seungbin Yang
soft Baroque
Studio Somers
Ted Noten
Thomas Ballouhey
Thomas Trum
Tijmen Smeulders
Willy Guhl
XXL, netpunk





Wallpaper*
Press
Jan . 2017

' Panta Rhei '

http://www.wallpaper.com/design/soap-stars-were-in-a-lather-about-the-latest-design-graduates








Generation 2017
Exhibition
20 . January . 2017

' Panta Rhei '









Wallpaper*
Magazine
January . 2017

' Panta Rhei '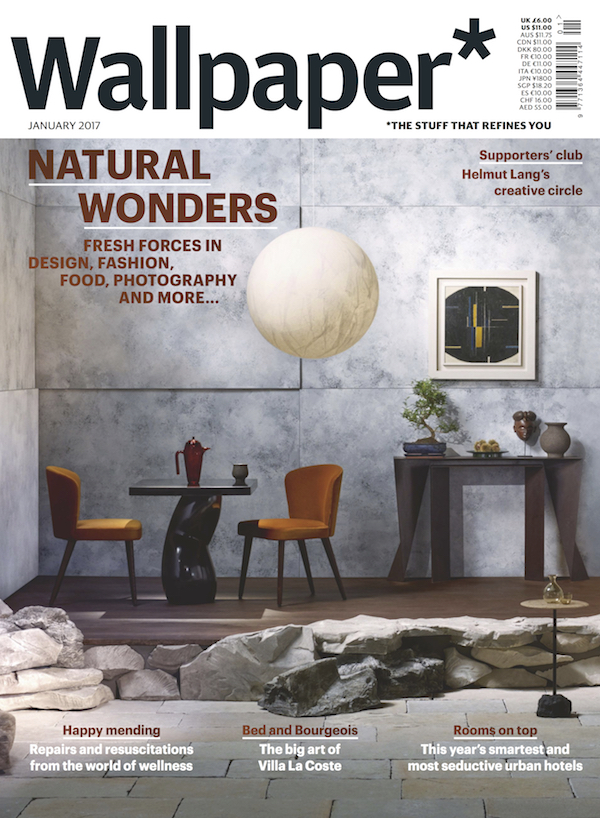 TLMag
Magazine
Dec . 2016

' Panta Rhei '








Matter
Press
Dec . 2016

' 21g '

http://www.ma-tt-er.org/?s=seungbin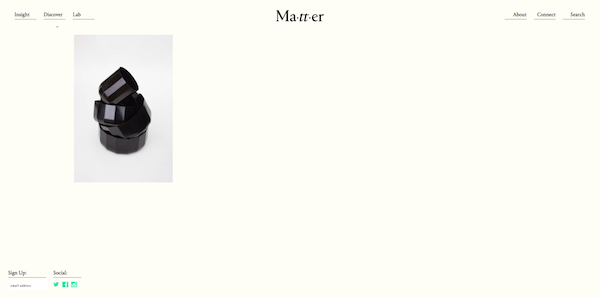 'NOX' - Exhibiton in OODE Gallery, Amsterdam
Exhibition
26 . Nov . 2016 ~ 26 . Jan . 2017

' 21g '

http://www.oode.nl/nox/








Casa Facile
Webzine
Nov . 2016

' Panta Rhei '

http://www.casafacile.it/notizie/10_novit_dalla_dutch_design_week_2016-35532/#gallery-0=slide-7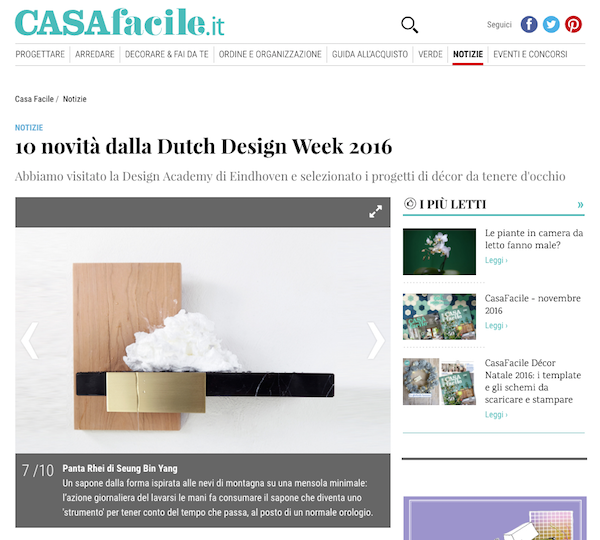 Sight Unseen
Webzine
Nov . 2016

' 21g '

http://www.sightunseen.com/2016/11/best-of-dutch-design-week-2016/








HLOW Paris
Webzine
Oct . 2016

' 21g '

http://hlow.paris/best-of-dutch-design-week-2016-eindhoven-1








'21g' group tour in Dutch Design Week 2016 with more than 70 ambassadors
News
Oct . 2016

' 21g '








ED (Eindhoven Dagblad)
Newspaper
Oct . 2016

' 21g '








Graduation Show 2016
'in need of...'
Exhibition
Oct . 2016

' 21g '

https://www.designacademy.nl/EVENTS/Graduation16/Project.aspx?ProjectId=1340








' Panta Rhei'

https://www.designacademy.nl/EVENTS/Graduation16/Project.aspx?ProjectId=1341






171 GRADUATES ARE PRESENTING 197 PROJECTS DURING THIS YEAR'S GRADUATION SHOW, WHICH IS CURATED BY FORMAFANTASMA.

THE 2016 DESIGN ACADEMY EINDHOVEN GRADUATES ARE WORKING IN A CRITICAL MOMENT IN TIME. ALL 171 NEWLY GRADUATED DESIGNERS ARE ENTERING AN ERA CHARACTERIZED BY UNCERTAINTY, UPHEAVAL, AGGRESSION AND HATE.

Yet their vision remains steadfastly positive because design is an optimistic discipline. Our designers believe in a better world, they believe in the possibility of change, and they believe that design can play a central role in the shaping of a new world.

Our 2016 graduates explore larger issues in their designs: peace, production, surveillance and gender. They courageously deal with war and peace, and open the debate on government surveillance and the right to privacy. They delve into gender and how constraints and a narrow way of thinking limit our potential. And they also look at what recently was – by analyzing production processes and posing challenges to big industry. They search for new methods and for material innovations, and they mix craft and technology to create new products that can be made on a more human scale.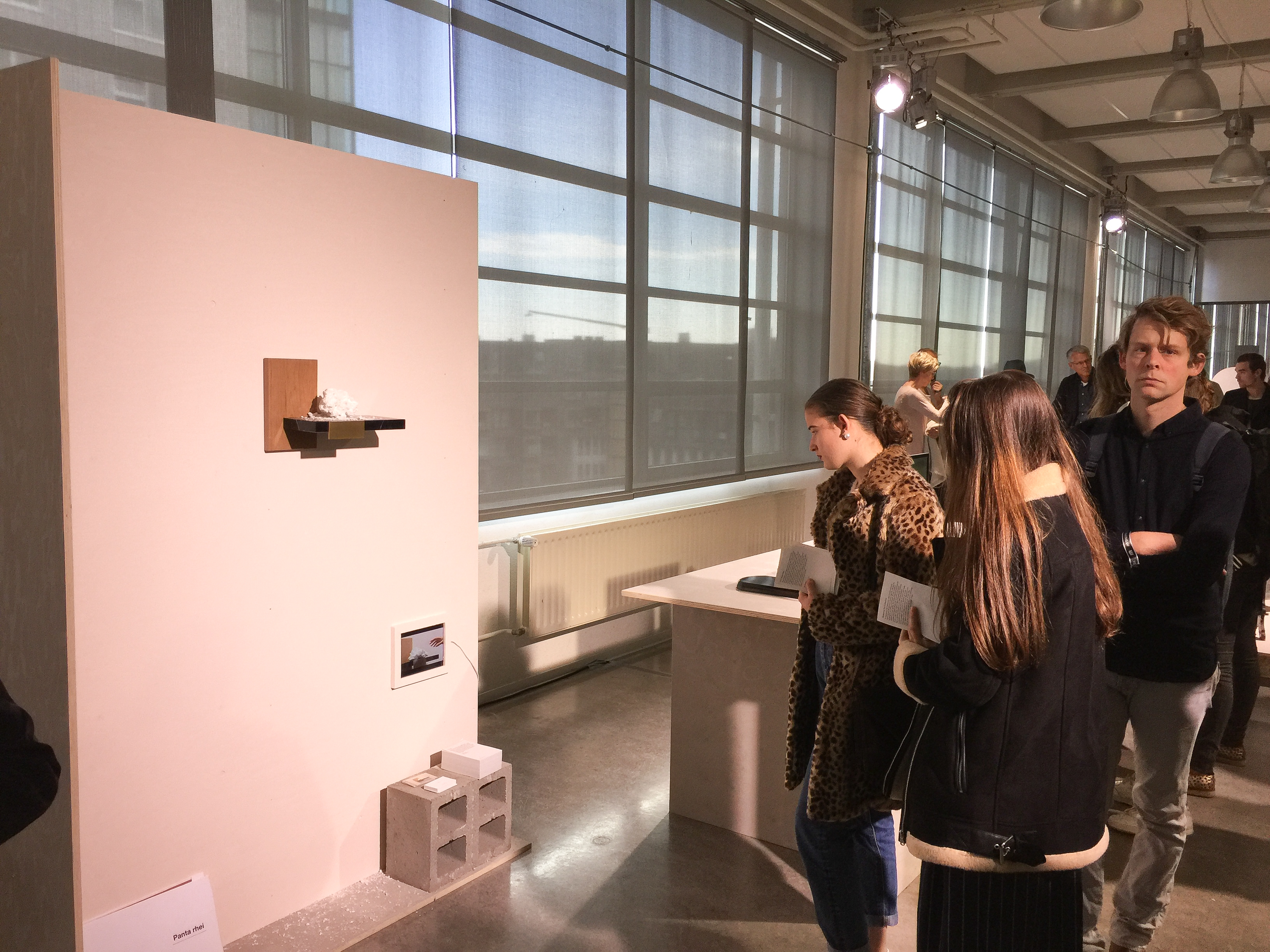 '21g' is nominated of Mellkweg Award
News
Sep . 2016

' 21g '








northmodern
Exhibition
Aug . 2016

' 21g '







iGNANT
Webzine
June . 2016

' 21g '

http://www.ignant.com/2016/06/17/lightweight-tableware-by-seugbin-yang/








Prodeez
Webzine
June . 2016

' 21g '

http://www.prodeez.com/single-post/2016/06/26/21g-by-Seungbin-Yang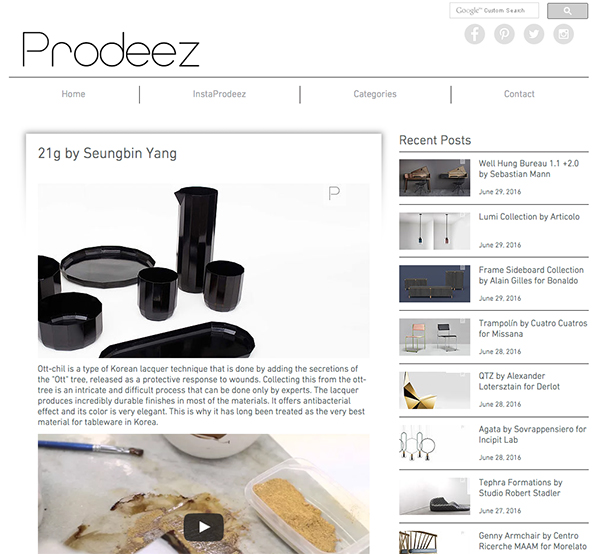 DMY Berlin International Design Festival
Exhibition
June . 2016

' 21g '

http://www.dmyberlin.com/en/festival_2016/new_talents/studio-seungbin-yang








Mocoloco
Webzine
May . 2016

' 21g '

http://mocosubmit.com/21g-by-seungbin-yang/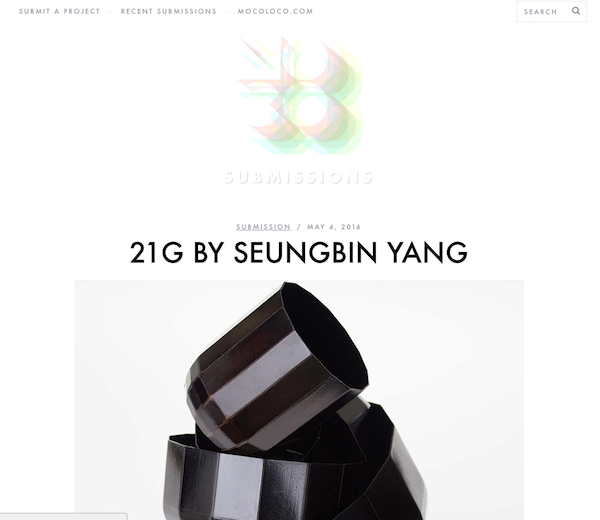 Mocoloco
Webzine
May . 2016

' Panta Rhei '

http://mocosubmit.com/panta-rhei-by-seungbin-yang/








Core77
Webzine
April . 2016

' 21g '

http://www.core77.com/projects/52273/Ultra-Strong-Paper-Tableware-Made-Using-an-Ancient-Lacquering-Process








Designlines
Webzine
April . 2016

' 21g '

http://www.designlines.de/newcomer/21g_16678320.html








Designboom
Webzine
April . 2016

' 21g '

http://www.designboom.com/design/seungbin-yang-21-grams-ott-chil-lacquer-collection-04-20-2016/









Dezeen
Webzine
April . 2016

' Panta Rhei'

http://www.dezeen.com/2016/04/14/design-academy-eindhoven-touch-base-exhibition-milan-design-week-2016-touch-vs-technology-petting-zoo-vagina-mirror/







Core77
Webzine
April . 2016

' 'Panta Rhei '

http://www.core77.com/posts/51863/Meat-Lamps-Bulging-Ceramics-and-Office-Furniture-from-the-Future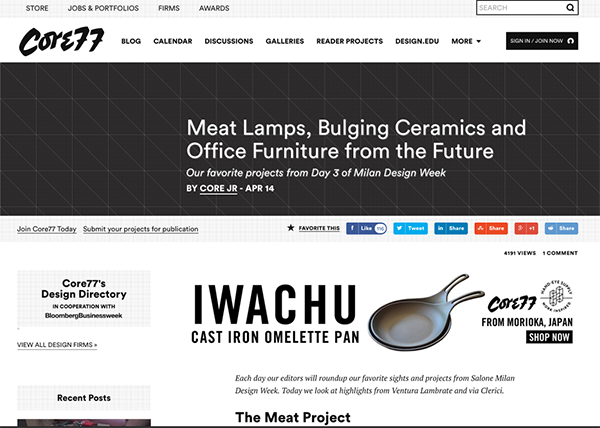 Artribune
Webzine
April . 2016

' Panta Rhei '

http://www.artribune.com/2016/04/salone-updates-design-academy-eindhoven-e-linvito-a-toccare-i-genitali-femminili-touch-base-e-il-ritorno-del-tatto-e-dalla-sensorialita/touch-base-design-academy-eindhoven-milano-7/








' Touch Base ' in Salone del Mobile Milano 2016
Exhibition
April . 2016

' Panta Rhei '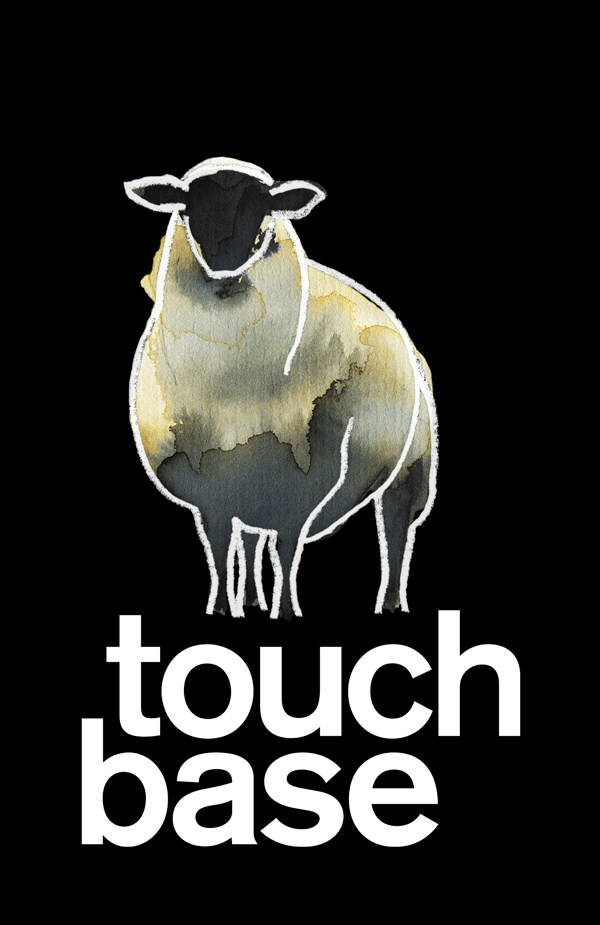 Artist's Portfolio
Exhibition
March ~ June . 2015

' Time to go / Portfolio '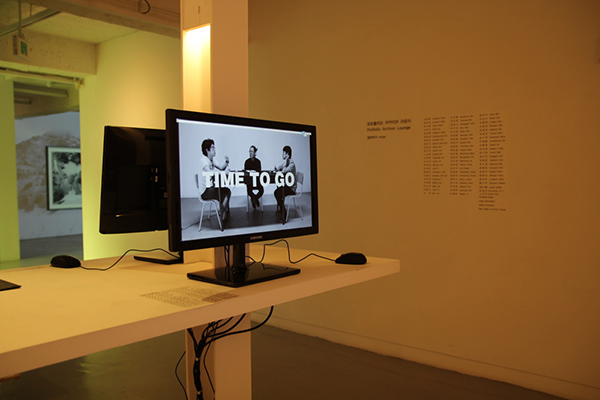 Dutch Design Week 'Researching the way people work at Woonbedrijf'
Exhibition
October . 2014

' Time to go '








Dutch Design Week 'Zona Ventosa'
Exhibition
October . 2013

' Unexpected Stranger '

' Totoro '








Korean Cultural Event
Exhibition
May . 2013

' Black Swan '








Dutch Design Week 'TAC, Eindhoven Conspectus'
Exhibition
October . 2009

' Across the Univers '